PUEB at the top of the ranking list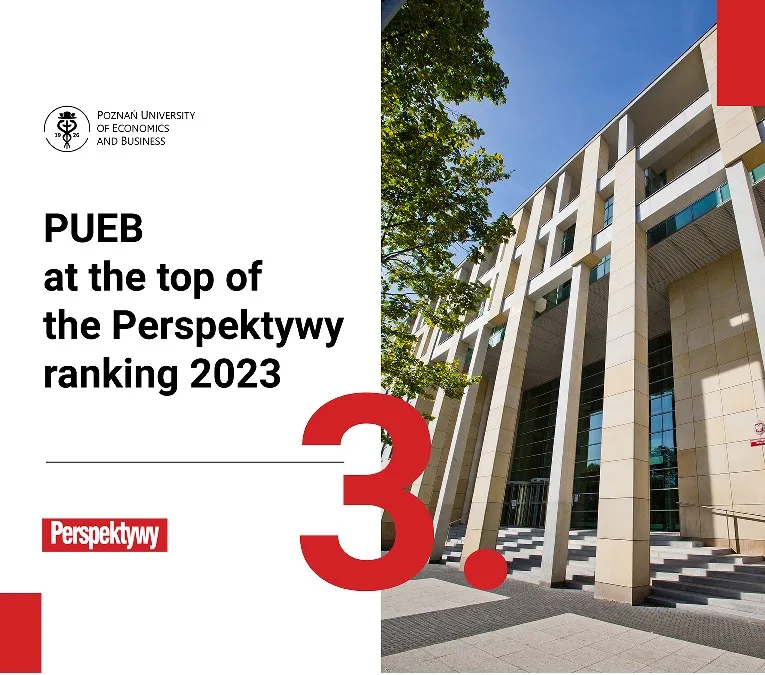 We stand firmly on the podium in the most important ranking of Polish economic universities!
The Poznań University of Economics and Business is again at the forefront of the ranking of universities prepared by the "Perspektywy". Our efforts to offer academic education and conduct scientific research at a very high level, corresponding to social needs, have once again secured us the 3rd place in the country in the category of economic universities.
The assessment was carried out in 8 groups of criteria: prestige, graduates on the labor market, scientific potential, scientific effectiveness, publications, conditions of education, innovation and internationalization. In the ranking of academic universities announced on June 29, 2023, we were the best in the "Graduates on the labor market" group. A very high 6th place in the ranking of all academic universities and 2nd among economic universities prove that we educate in accordance with the requirements of the labor market and current business needs. This is a significant jump from the 13th position in 2022, proving how well the PUE's educational offer is tailored to the expectations of employers.
We were promoted in the ranking of fields of study in the case of economics (3rd place). We have maintained the current, third position in the field of finance and accounting. We are also on the podium with the field of computer science and econometrics.
Our success in the ranking is the result of joint efforts of academic teachers and administration employees. We are constantly improving the quality of education and research, focusing on areas important for the quality of life, competitiveness of the economy and the natural environment.
We develop cooperation with enterprises and universities from around the world, expanding the cognitive perspective and development opportunities for the staff of scientists and students. Openness to the world and scientific truth are important to us. We have excellent lecturers and curricula that prepare future business leaders for the challenges of the labor market.
Faithful to our mission, with a sense of social responsibility, we conduct innovative research and educate leaders of the future.