Research is one of PUEB's key objectives. The University collaborates in its research with national and international partners and participates in international research funding programmes such as, 7th Framework Programme, Horizon 2020, Visegrad Fund and others.
Some of the recent international projects include:
–  FESSUD Financialisation, Economy, Society and Sustainable Development – a multidisciplinary, pluralistic project aimed at forging alliances across the social sciences, so as to understand how finance can better serve economic, social and environmental needs.
– NEGOTIATE Overcoming early job-insecurity in Europe – a research project centred on young people in Europe. It examined the long- and short-term consequences of experiencing job insecurity or labour market exclusion in the transition to adulthood.
– EVERYDAY NIGHT – Researchers' Night – a coordination and support action aimed at increasing public knowledge, understanding and appreciation of researchers' work by opening universities on a Friday night every September and offer a huge number of educative events.
– SIMMO: System for Intelligent Maritime Monitoring  project for developing a prototype of a system, based on the state-of-the-art information fusion and intelligence analysis techniques, which will support different stakeholders and users from the maritime domain in situation analysis and decision-making.
For currently running projects see: link
In terms of publishing research papers, it is worth noticing that PUEB is a publisher of two leading research journals – Studia Oeconomica Posnaniensia, and the Economics and Business Review – as well as a regular publisher of monographs, practice-oriented materials and teaching materials.
All Faculties maintain strong relations with business practices, which is reflected by many implementations of innovations and solutions generated at PUEB in business, particularly in the field of Commodity Science and Information Technologies, which is not common for other business schools in Poland and in other countries.
There are several laboratories operating at the University where, apart from educational and research activities, services are provided for business, e.g. Virtual Reality Laboratory and ConsumerLab
Supporting the international development of PUEB research staff contributes to their greater mobility and to strengthening links with foreign research centers. As a result, recently the University has been entrusted with the task of organizing prestigious international scientific conferences, such as IMP, the AIELF Congress, IT&FA, WETICE, BIS, or e-RUM.
In 2018 year at the Poznań University of Economics and Business the following international science conferences were organised:
April 2018 ICOFEP International Conference on Finance and Economic Policy
June 2018 INFINITI Conference on International Finance
July 2018 TAKE Conference Theory and Applications in the Knowledge Economy
December 2018 EIBA International Business in a Transforming World – the Changing Role of States and Firms
Key Research Areas of the Poznań University of Economics and Business for 2022–2024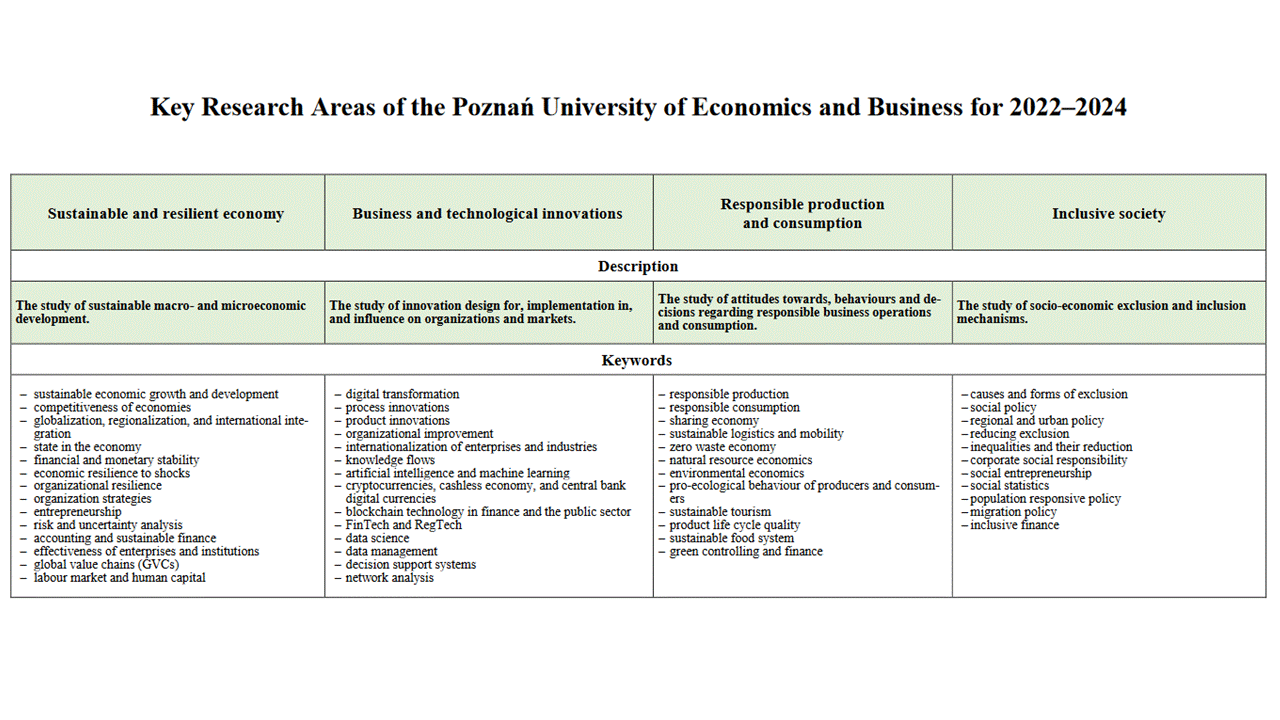 Research Office:
Iwona Lisiecka, tel. +48 61 856-93-80, building A, room 125
Head pf the Office
Izabela Maciejowska tel. +48 61 856-94-07, building A, room 127
International and commissioned projects, National Centre of Research and Development (NCRD) grants
Małgorzata Plenzler-Fedorowicz, tel. 61 856-94-50, building A, room 128
National Science Center (NSC) grants
Jarosław Tarasek, tel. 61 856-94-51, building A, room 126
YRDS (Young Researchers and Doctoral Students) and statutory research
Dorota Tursa, tel. +48 61 856-93-08, building A, room 129
Intellectual property and commercialization of research results
functions at the University: Member of the Intellectual Property Commission